Berkeley Law - Faculty Profiles
general • courses • teaching evaluations • cv • publications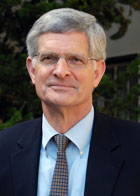 Wayne Brazil
Title: Professor from Practice
Tel: 510-642-9523
Fax: 510-642-3856
Email Address: wbrazil@law.berkeley.edu

FSU Contact: Roxanne Livingston
Wayne Brazil joined the faculty at Berkeley Law in the fall of 2009 as a Professor from Practice after having spent 25 years as a magistrate judge in the United States District Court for the Northern District of California. He exercised the full range of judicial responsibilities during his tenure as a judge, presiding over civil and criminal trials, conducting evidentiary hearings, hearing motions, managing the pretrial development of civil cases, conducting settlement conferences, and hosting a daily master criminal calendar. He also led the teams that designed and implemented the Court's multi-faceted ADR program and served as the Court's first ADR Magistrate Judge, a position he occupied for more than 15 years.
In addition to scores of published opinions, Judge Brazil has written more than 30 journal articles and three books, most focusing on issues related to court provision of ADR services, settlement, the use of special masters, and the system of civil discovery. He also wrote the chapters on case management and on discovery sanctions for the redesigned Third Edition of Moore's Federal Practice. Judge Brazil served the Judicial Conference of the United States as a member of the committees on Civil Rules and on Evidence, and as reporter for the Conference's Special Committee on the Civil Justice Reform Act. He was a member of the 9th Circuit's ADR Committee for 12 years. He currently serves on the Editorial Board of the ABA's Dispute Resolution Magazine.
For his contributions to the development of court sponsored ADR programs, Judge Brazil received the D'Alembert-Raven Award in 2009 from the ABA's Section of Dispute Resolution, the Weckstein Memorial Award in 2007 from the California Dispute Resolution Council, lifetime achievement awards in 2005 from the American College of Civil Trial Mediators (2005) and the CPR Institute for Dispute Resolution (New York - 1999).
Before becoming a magistrate judge, Professor Brazil taught in the law schools at Hastings College of the Law, the University of Missouri (Columbia), and the University of Kentucky. He was a litigation associate at the San Francisco law firm of Farella, Braun & Martel before turning to law teaching.
Education:
B.A., Stanford University (1966)
M.A., Harvard University (1967)
J.D., UC Berkeley (Boalt Hall) (1975)
Ph.D., Harvard University (1975)