BearBuy is UC Berkeley's web-based marketplace where we go to shop and manage most of our business-related purchases and payments. Our "Procure-to-Pay" system, BearBuy, provides staff, faculty, graduate students with active appointments and other employees with an intuitive, easy to use interface, catalog shopping and electronically-enabled workflows.
How to get to BearBuy (PDF)
Learn how to use BearBuy
Delegation of Purchasing Authority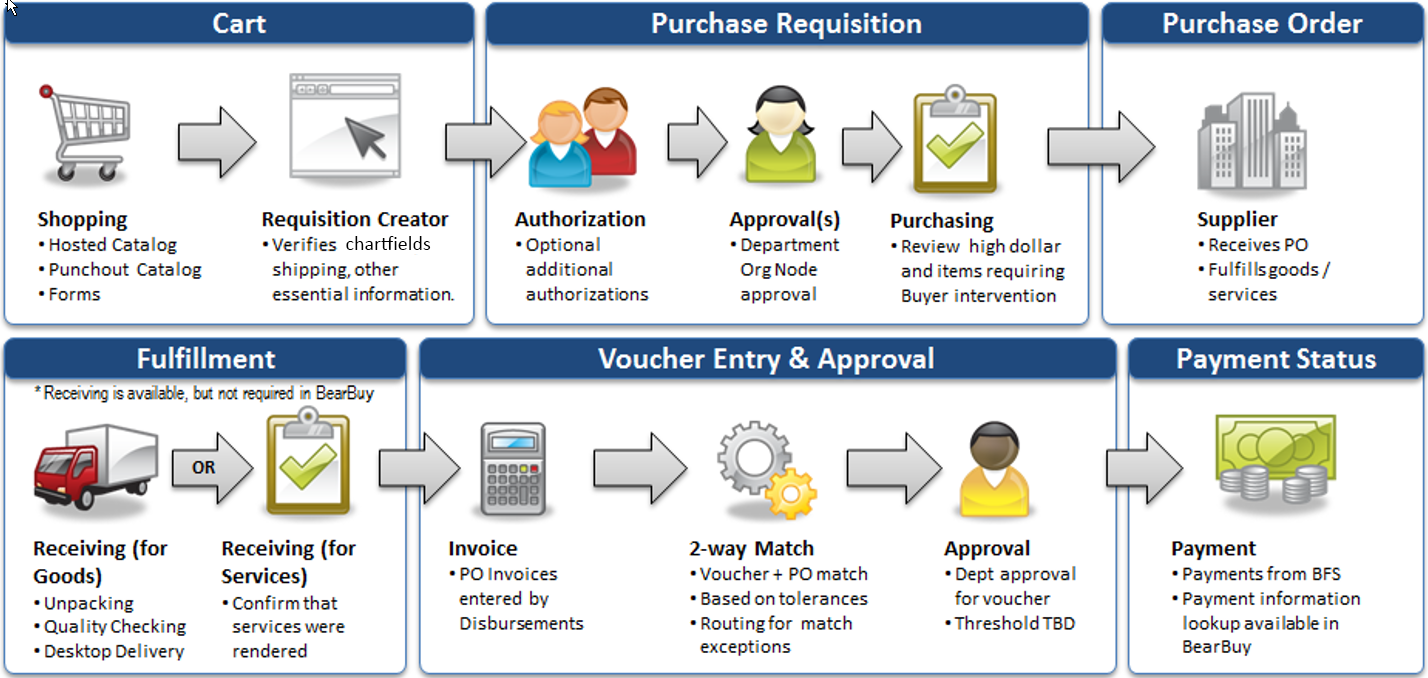 Training
Training Sessions are offered to the campus, through the UC Learning Center  and are based on particular BearBuy role or function.
Basics for Shoppers: New and returning Shoppers learn about BearBuy basics, BearBuy terminology, catalogs, shopping concepts, BearBuy workflow, and other concepts. Prior knowledge of BearBuy is recommended but not required. 
July 14, 2021
Course #: BEESS950-07142021
Basics for Shoppers Presentation
Shopping With Forms & More: Shoppers will learn about the new elastic search, how to look up a vendor in BearBuy, searching for their region, updating personal preferences, utilizing contracts in purchase orders, validating chartstrings and creating various forms (non-catalog, service, payment request/honorarium, and BluCard)
August 18, 2021
Course #: BEESS951-08182021
Use Bearbuy Electronic Forms
Our redesigned and expanded user job aids incorporate our transition to RSS B&FS, complement other campus BearBuy resources, and include specific instructions for law school shoppers.  If you are new to BearBuy, contact Julia Lai (inquiries@law.berkeley.edu) to request a hands-on orientation.
Procurement Forms Required PO Documents
How to prepare a Non-Catalog form in BearBuy (PDF)
How to prepare an Off Campus Event Request form in BearBuy (PDF)
How to prepare an After the Fact PO form in BearBuy (PDF)
How to Find the Status of Your Order
Recieving Instructions and How to Create a Receipt to prevent Match Exception
Purchase Order Closures and Change Order Requests
Send all purchase orders and change order requests to inquiries@law.berkeley.edu. Please be sure to provide the requisition number or PO number and the requested action in the subject line. If requesting closure of multiple POs, please attach an excel spreadsheet listing the purchase orders in list form.