BearBuy is UC Berkeley's web-based marketplace where we go to shop and manage most of our business-related purchases and payments. Our "Procure-to-Pay" system, BearBuy, provides staff, faculty, graduate students with active appointments and other employees with an intuitive, easy to use interface, catalog shopping and electronically-enabled workflows.
How to get to BearBuy (PDF)
Learn how to use BearBuy
Delegation of Purchasing Authority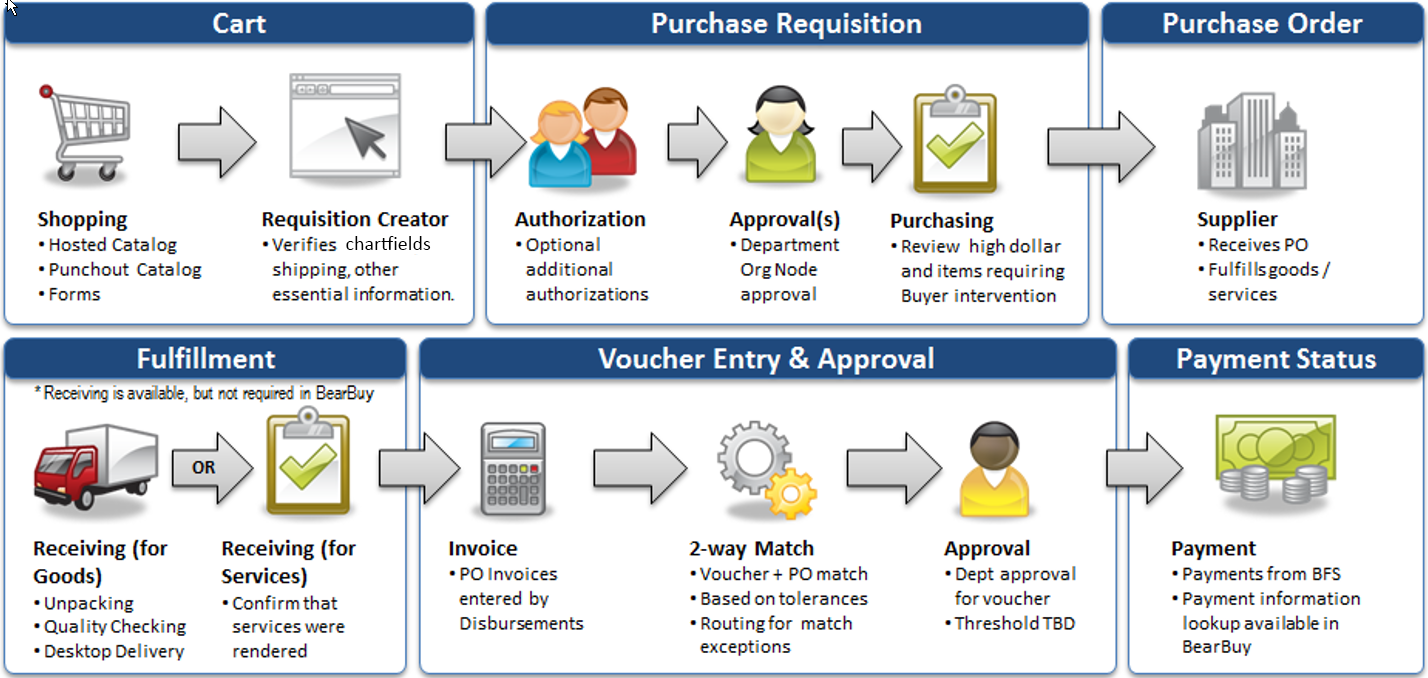 Training
Training Sessions are offered to the campus, through the UC Learning Center  and are based on particular BearBuy role or function.
Basics for Shoppers

This is an 

ESSENTIAL eCourse training

 for 

ALL 

employees who will purchase goods and services on behalf of the University through the eProcurement system, BearBUY. Participants will learn BearBUY basics, terminologies, catalogs & forms, and workflow.

For closed captions, please click on the "CC" button located at the lower right-hand corner of the training.

eCourse Browser Compatibility:

Chrome & Edge (preferred)

FireFox & Safari (unsupported)

Internet Explorer (incompatible – Per Microsoft, Internet Explorer will no longer work or exist starting 06/15/2022.)

To take this eCourse, click on the following course #: 

Please send any training inquiries to bearbuyhelp@berkeley.edu

(link sends e-mail)

. 
Need assistance with determining which method to use for purchasing goods and services?
Please visit Supply Chain Management's webpage, Methods for Purchasing Goods and Services. Services are categorized by type and each link provides a description as well as suggested backup documentation to process a purchase order successfully within BearBuy. 
Remember to use BearBuy best practices when submitting purchasing requests on behalf of Berkeley Law
We avoid using personal funds to make purchases for reimbursement or services.  We use BearBuy to proactively manage our purchasing activity.
We avoid making unauthorized purchases – this is defined as buying goods and services from vendors before a BearBuy Purchase Order has been created and authorized.
We use separate shopping carts for items purchased via each catalog type – hosted, punch-out, and non-catalogs.  Cart contents may include items from a variety of vendors selected from the same catalog type.
We use separate shopping carts for each type of BearBuy form – one form to a cart.
We use shopping cart names to allow Shoppers, Cart Authorizers, and others to easily identify and retrieve our carts in BearBuy.
We use the shopping cart Comments field to share information about our purchase and to record the chartstring. Please be sure to tag your Business Services department rep. or RSS requisition creator in the comments before submitting if requiring assistance.
Purchase Order Closures and Change Order Requests
Send all purchase orders and change order requests to inquiries@law.berkeley.edu. Please be sure to provide the requisition number or PO number and the requested action in the subject line. If requesting closure of multiple POs, please attach an excel spreadsheet listing the purchase orders in list form.