Berkeley Law - Faculty Profiles
general • courses • teaching evaluations • publications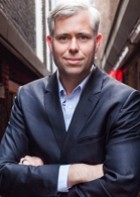 Chris Hoofnagle
Title: Lecturer in Residence; Director, Information Privacy Programs, Berkeley Center for Law & Technology; Senior Staff Attorney, Samuelson Law, Technology and Public Policy Clinic
Tel: 510-643-0213
Email Address: choofnagle@law.berkeley.edu

Chris Jay Hoofnagle's research focuses upon the structure of legal and economic relationships that lead to tensions between firms and individuals, manifested through information privacy problems, gaps in understanding of legal protections, deficits in consumer law protections, and the problem of financial fraud.
Hoofnagle has written extensively in the fields of information privacy, the law of unfair and deceptive practices, consumer law, and identity theft. His recent work includes, The Price of Free, 61 UCLA L. Rev. ___ (2014) (with Jan Whittington), Unpacking Privacy's Price, 90 North Carolina L. Rev. 1327 (2012) (with Jan Whittington), and Behavioral Advertising: The Offer You Cannot Refuse, 6 Harvard L. & Policy Rev. 273 (2012). He has also written on payments technologies with a focus upon mobile payments, consumer attitudes toward and knowledge of privacy law, identity theft, the first amendment, and the government's reliance on private-sector databases to investigate citizens. 
At Berkeley Law, Hoofnagle has taught computer crime law, information privacy law, cyberlaw, and a course on Federal Trade Commission regulation of privacy.
Hoofnagle is principal investigator (with Dean Shankar Sastry) on a NSF-funded effort to promote graduate education for students who have been educationally or economically disadvantaged, and an investigator on three other NSF projects focusing upon computer security, social factors in computer misuse, and privacy and security issues in future internet architectures.
With his brother Mark, Hoofnagle defined the contours of "denialism," which is now used in the academic literature to frame some debates on environmental and HIV/AIDS policy.
Hoofnagle co-chairs the annual Privacy Law Scholars Conference. He is a member of the AAUP and serves on its committee on Academic Freedom and Electronic Communications, a subcommittee of Committee A.
He is licensed to practice in California and Washington, DC.
Education:
B.A., University of Georgia (1996)
J.D., University of Georgia School of Law (2000)