Berkeley Law - Faculty Profiles
general • courses • teaching evaluations • cv • publications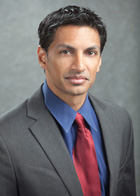 Prasad Krishnamurthy
Title: Assistant Professor of Law
Tel: 510-643-5822
Email Address: prasad@law.berkeley.edu

FSU Contact: Don E. Johnson
Prasad Krishnamurthy joined the Berkeley Law Faculty in 2010. Prasad is a graduate of Yale Law School, where he served as Essays Editor on the Yale Law Journal. He holds an M.A. and Ph.D. in economics from U.C. Berkeley and an M.A. in political philosophy from the University of Chicago. His research interests include financial regulation, antitrust and competition policy, law and development, and distributive justice. Prasad's research seeks to apply empirical methods to analyze legal rules and institutions and to develop the normative implications of empirical research for law and policy. He teaches in the areas of antitrust, financial institutions, and law and development.
Prasad serves as the Editor-in-Chief of the Indian Journal of Law and Economics. He has taught at the National Academy of Legal Studies and Research (NALSAR) in Hyderabad, India as a Yale Law School Reubhausen Fellow. Prior to law school, Prasad taught mathematics at Dominguez High School in Compton, CA and was a social worker at Legal Aid Foundation of Los Angeles.
Prasad's Ph.D. dissertation is entitled "Essays on the Microeconomics of Financial Market Structure and Performance." It analyzes banking market integration in the United States and its effects on business growth and volatility. It also considers the relationship between deposit competition and banking market structure, and its implications for antitrust policy and financial stability.
Works in progress:
Banking Market Integration and Firm Growth (2012) - PDF Version (409 Kb)
Spatial Competition, Network Externalities, and Market Structure (2011) - PDF Version (332 Kb)
Education:
B.A./M.A., University of Chicago (1999)
J.D., Yale Law School (2004)
M.A., Ph.D., UC Berkeley (2011)