Berkeley Law - Faculty Profiles
general • courses • teaching evaluations • cv • publications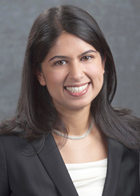 Saira Mohamed
Title: Assistant Professor of Law
Tel: 510-643-5760
Email Address: smohamed@law.berkeley.edu

FSU Contact: Leslie Stone
Saira Mohamed's primary interests are in the areas of international law, human rights, and international criminal law. Her research focuses on the function of international law in situations of violent conflict or atrocity. Prior to joining Berkeley Law, she was the James Milligan Fellow at Columbia Law School.
Mohamed previously served as Senior Advisor in the Office of the U.S. Special Envoy for Sudan, where she counseled government officials on legal and policy issues regarding the work of the International Criminal Court in Darfur, the resolution of the civil war in Sudan, and U.S. and multilateral sanctions. She also was an Attorney-Adviser for human rights and refugees in the State Department's Office of the Legal Adviser, where her portfolio included asylum cases and human rights litigation in U.S. courts. Mohamed represented the United States in negotiations of the Third Committee of the U.N. General Assembly and received the State Department's Superior Honor Award for her participation in drafting a U.N. resolution condemning the use of rape as an instrument to achieve political objectives.
Mohamed is a graduate of Columbia Law School, where she was Executive Articles Editor of the Columbia Law Review and recipient of the David Berger Memorial Prize for international law. She also received a Master of International Affairs from Columbia's School of International and Public Affairs. She clerked for Judge Kim McLane Wardlaw of the United States Court of Appeals for the Ninth Circuit.
Education:
B.A., Yale University (2000)
J.D., Columbia Law School (2005)
Master of International Affairs, Columbia School of International and Public Affairs (2005)