general • courses • teaching evaluations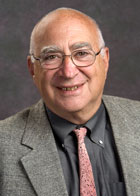 Neil M. Levy
Title: Visiting Professor of Law
Email Address: neil.levy@comcast.net

Professor Levy teaches Torts at Boalt. He also has taught Insurance Law and Rights of Native Peoples. He is Prof. Emeritus at Golden Gate University, School of Law and has visited at Stanford Law School and at the University of San Diego, School of Law.
He is the editor of the six volume treatise "California Torts" published by LexisNexis. He founded two newsletters geared to the practicing bar, the California Tort Reporter and the Federal Litigator. He also has written extensively about the Pacific Islands of Micronesia.
He began legal practice as a legal service attorney, working for California Indian Legal Services, California Rural Legal Assistance and Legal Aid Society of Hawaii. He has had an extensive appellate and motions praxctice in the fields of tort liabilty and insurance coverage.
He is a graduate of Cornell University in History (1963) and the University of Chicago, School of Law (1966) where he served on the Law Review.