Berkeley Law - Faculty Profiles
general • courses • teaching evaluations • cv • publications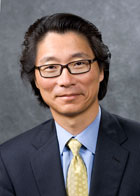 Taeku Lee
Title: Professor of Law; Professor of Political Science
Tel: 510-643-9532
Email Address: taekulee@berkeley.edu

FSU Contact: Stephanie Boram
Taeku Lee joined the faculty of UC Berkeley's Travers Department of Political Science in 2002 and the faculty of the Jurisprudence and Social Policy Program at Boalt Hall in 2009. Previously, he was an assistant professor of public policy at Harvard's John F. Kennedy School of Government from 1997 to 2002.
Lee's expertise is in racial and ethnic politics, public opinion and survey research methods, and political behavior and social movements. He is author of Mobilizing Public Opinion, which was awarded the J. David Greenstone Award for the Best Book on Politics and History and the V.O. Key Award for the Best Book on Southern Politics. More recently, Lee has co-authored Race, Immigration, and (Non)Partisanship in America and is co-editing the Oxford Handbook of Racial and Ethnic Politics in the United States and co-editing a publication for the World Bank on titled Voice with Teeth: Public Opinion and Accountability. Lee is also co-PI of the 2008 National Asian American Survey, the first-ever large scale survey of the civic life, political engagement, and race relations of Asians in the United States. He is currently writing a book for the Russell Sage Foundation based on this survey as well as a collection of essays tentatively titled Race, Identity, Power, Method.
At Berkeley, Lee is Director of the IGS Center on the Politics of Immigration, Race, and Ethnicity; Chair of the Diversity and Democracy Cluster of the Berkeley Diversity Research Initiative; and Senior Faculty Fellow at the Chief Justice Earl Warren Institute for Race, Ethnicity, and Diversity. He has served in advisory and consultative capacities for community-based organizations, think tanks, and a Fortune 500 company. Lee was born in South Korea, grew up in Malaysia, New York City, and suburban Detroit, and is a proud graduate of K-12 public schools.
Education:
A.B., University of Michigan (1987)
M.P.P., Harvard University (1990)
Ph.D., University of Chicago (1997)