Hopelessly Addicted to Audiobooks… That phrase is actually part of one audiobook lover's email address. Since it's taken, I can't use it for mine, though it is an uncomfortably accurate description of how, aided by a long commute, and my iPod, I imbibe most literature these days. A good narrator can make you listen to a book you never had a desire to read, add a new dimension to one previously read and tempt you to try that classic you've had on your list of books to read before you die.
Here are a few titles that have made my commute all too brief: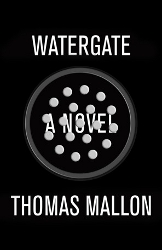 Watergate: a Novel by Thomas Mallon. Pantheon, 2012.
As a teenager in the summer of 1973, entranced by the unfolding drama of Watergate, I rushed home every day to catch the Senate Watergate hearings on TV. Watching what I considered to be the villainous administration of Richard Nixon unravel day by day was as satisfying and fascinating as any spy thriller I've ever read. So listening to Joe Barrett's competent narration of Thomas Mallon's novel was like hearing an alternate history. Mallon's Nixon is certainly an odd duck, but more victim than villain. What I enjoyed about this novel were the women. Mallon sheds and shreds Pat Nixon's Republican cloth coat, dons her with a wry sense of humor, compassion, wit, insight and a very discreet affair. Alice Longworth Roosevelt, long known for her not-always-kind wit, struggles with terrible guilt for decades, and is rescued from despair by Richard Nixon. And we finally learn just how those 18 minutes of tape were erased by Rosemary Wood. It may not be true, but it is fun.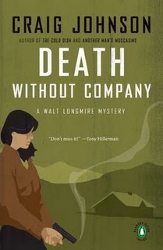 Death Without Company by Craig Johnson. Recorded Books. 2007
Mari Baroja, an elderly Basque widow, dies peacefully in Wyoming's Absaroka county's only assisted living facility. Since this is fiction there is, of course, nothing natural or actually peaceful about Mari's death. Just as there was not much that was peaceful about her long and difficult life. Walt Longmire, the sheriff of Absaroka county, is equipped, in addition to the requisite sidearm, with dry, often self-mocking humor, intelligence, tenacity and kindness. Narrator George Guidall, who could probably make a living narrating the phone book, completely inhabits Longmire's character. He takes the listener on a great vacation to the Big Horn country, and solves a neat little who-done-it in the process. Second in a series, all, thankfully, narrated by Guidall.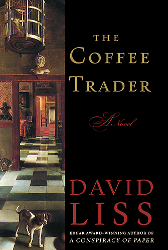 The Coffee Trader by David Liss. Books on Tape. 2004
Manuel Lienzo is a bankrupt trader and member of the exiled Portuguese Jewish community in 17th century Amsterdam. He has been reduced by risky trading decisions gone bad to living on his righteous and despised brother's charity. Manuel is a desperate character, and so, for much different reasons is his sister-in-law. Manuel attempts to restore his fortune, manipulating and being manipulated by very dangerous, even murderous Dutch traders. The life of a Jewish woman in the Christian Amsterdam of the 1600s also has its dangers. John Lee's resonate voice seems to have been created just to speak in the voices of the characters in this novel. The tale spun by that voice may not have the most original trajectory, but it could not have been better told. The first of a series about the Lienzo family.