Berkeley Law - Faculty Profiles
general • courses • teaching evaluations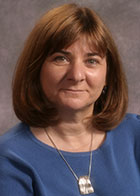 Rosann Greenspan
Title: Executive Director, Center for the Study of Law and Society
Tel: 510-642-7286
Fax: 510-642-2951
Email Address: rgreenspan@law.berkeley.edu

Rosann Greenspan has been with the Center for the Study of Law and Society since 2000. She served as the acting assistant director of the center for one year before becoming the associate director. She was named executive director in 2005. Greenspan also is a lecturer with UC Berkeley's Legal Studies Program.
Greenspan has a doctorate from Boalt's Jurisprudence and Social Policy Program and was a post-doctoral fellow in Law and Politics at Stanford University from 1992 to 1993. She was a U.S. Supreme Court Judicial Fellow from 1993 to 1994. Prior to returning to Berkeley, she served as research director of the Police Foundation in Washington from 1997 to 2000. She has been the principal investigator or co-principal investigator for several research projects sponsored by the National Institute of Justice. She is a member of the Law and Society Association and the American Society of Criminology.
Greenspan's recent publications (coauthored) include "Changing Everything So that Everything Can Remain the Same: Compstat and American Policing" in Police Innovation: Contrasting Perspectives (Cambridge University Press, 2006);"The Richmond/Police Foundation Domestic Violence Partnership" (2003); "Compstat and Organizational Change: A National Assessment" (2003); The Abuse of Police Authority: A National Study of Issues and Attitudes (2001); and "Police Attitudes Toward Abuse of Authority: Findings from a National Survey," which appeared as a National Institute of Justice Research in Brief (2000).
Education:
B.A., Yale University (1971)
M.A., University of Toronto (1973)
M.A., UC Berkeley (1984)
Ph.D., UC Berkeley (1991)