Berkeley Law - Faculty Profiles
general • courses • teaching evaluations • cv • publications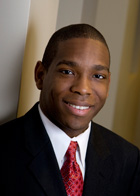 Fred Smith
Title: Assistant Professor of Law
Tel: 510-642-3943
Email Address: fsmith@law.berkeley.edu

FSU Contact: Amatullah Alaji-Sabrie
Fred Smith, Jr. joined Berkeley Law School's faculty in 2010. He is a scholar of the judiciary and constitutional law.
Smith clerked for Judge Myron Thompson of the Middle District of Alabama in Montgomery, Judge Barrington D. Parker, Jr. of the U.S. Court of Appeals for the Second Circuit, and Justice Sonia Sotomayor of the United States Supreme Court. Prior to joining the Berkeley faculty, he also worked as a fellow for a litigation boutique--Bondurant, Mixson & Elmore LLP in Atlanta.
Smith's research focuses on state sovereignty and representative government. His work has appeared in N.Y.U. Law Review, Stanford Law Review, and Fordham Law Review. Articles include: Due Process, Republicanism, and Direct Democracy 89 N.Y.U. L. Rev. 582 (2014) and Awakening the People's Giant: Sovereign Immunity and the Constitution's Republican Commitment, 80 Fordham L. Rev. 1941 (2012).
Smith obtained his J.D. from Stanford Law School in 2007. At Stanford, he was a member of the Supreme Court Litigation Clinic; was a finalist in the annual Kirkwood Moot Court Competition; was a finalist in the American Constitution Society's national Moot Court Competition; served as President of the Black Law Students Association; and served as Articles Editor for the Stanford Law and Policy Review. In 2004, he received his B.A. with Honors from Harvard College; his thesis was awarded Magna Cum Laude.
Education:
B.A., Harvard College (2004)
J.D., Stanford Law School (2007)