Berkeley Law - Faculty Profiles
general • courses • teaching evaluations • cv • publications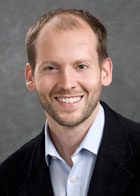 Robert Bartlett
Title: Professor of Law; Faculty Director, Berkeley Center for Law, Business and the Economy
Tel: 510-642-6646
Fax: 510-642-3856
Email Address: rbartlett@law.berkeley.edu

FSU Contact: Leslie Stone
Robert Bartlett joined the Berkeley Law faculty in the fall of 2009 from the University of Georgia School of Law, where he had taught since 2005. Bartlett's primary research interests focus on the intersection of finance and business law, and he teaches in the areas of securities regulation, corporate finance, and contracts. Bartlett also serves as a member of the faculty board of the Berkeley Center on Law, Business and the Economy and is an editor of Berkeley Law's VC Research Network.
Prior to joining the academy, Bartlett worked as a corporate associate in the Menlo Park, California, and Waltham, Massachusetts offices of Gunderson Dettmer Stough Villeneuve Franklin & Hachigian, where he served as general outside counsel to a number of start-up companies and private equity/venture capital funds. Bartlett has also served as an advisory board member to the National Venture Capital Association (NVCA) Model Document Working Group, a consortium of lawyers responsible for drafting and maintaining the NVCA's model documents for venture capital financing transactions.
Bartlett's recent publications include "Making Banks Transparent", 65 Vand.L. Rev. (2012), "Blind Consent? A Social Psychological Investigation of Non-Readership of Click-Through Agreements" (with Plaut), 35 Law and Human Behavior (2011), "Inefficiencies in the Information Thicket: A Case Study of Derivatives Disclosure During the Financial Crisis," 36 J. Corp. Law 1 (2010), "Going Private but Staying Public: Re-examining the Effects of Sarbanes-Oxley on Firms" Going-Private Decisions, 76 U. Chi. L. Rev. 7 (2009), "Taking Finance Seriously: How Debt Financing Distorts Bidding Outcomes in Corporate Takeovers," 76 Fordham L. Rev. 1975 (2008), and "Venture Capital Agency Costs, and the False Dichotomy of the Corporation," 54 UCLA L. Rev. 37 (2006).
Education:
B.A., Harvard University (1996)
J.D., Harvard Law School (2000)